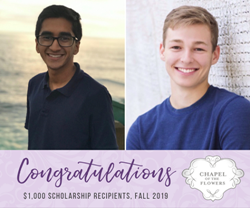 Famous Las Vegas wedding venue will provide $1,000 college scholarships to two young men attending Arizona State University
LAS VEGAS, Aug. 27, 2019 /PRNewswire-PRWeb/ — Chapel of the Flowers in Las Vegas has announced the recipients of their fall 2019 college scholarship awards. One winner is Shiv Shah, a freshman at Arizona State University. Dylan Ellis, the other scholarship recipient, is a junior at Arizona State University. Each student will receive a $1,000 scholarship.
Shiv and Dylan were selected for the $1,000 college scholarships based on the following criteria:
Currently enrolled in an accredited college or university
Demonstration of strong academic performance
500-word essay outlining educational goals and post-graduation plans
Shiv is pursuing degrees in Neurobiology and English, while Dylan is working towards a degree in Chemical Engineering.
The scholarship committee at Chapel of the Flowers thoroughly reviewed each submission and thoughtfully considered applicants based on description of current educational goals and academic accomplishments, financial need, demonstration of grammatical excellence, and anticipated career and/or educational plans after graduation. Shiv and Dylan were selected from several qualified applicants with compelling stories.
"We work with a very talented team of highly educated staff members at Chapel of the Flowers," said Donne Kerestic, CEO at Chapel of the Flowers. "Our success as one of the preeminent wedding chapels in the world has allowed us the opportunity to provide these annual scholarships to aspiring college students. We are incredibly proud of these two young men who attend ASU and hope that these $1,000 scholarships will help them achieve their academic and career dreams."
Chapel of the Flowers will accept submissions for two $1,000 scholarships that will be awarded in Spring 2020. Deadline to apply is February 14, 2020. For details and to complete the short scholarship application, please visit https://www.littlechapel.com/scholarship
About Chapel of the Flowers
Chapel of the Flowers, located at 1717 Las Vegas Boulevard South, has been celebrating love for nearly 60 years. The stunning indoor and outdoor chapels seat between 20 and 88 guests, and receive top ratings from couples around the world as well as from local residents of Las Vegas.
Founded in 1960, Chapel of the Flowers is Las Vegas' highest rated and largest full-service wedding venue, providing traditional, modern and elegant Las Vegas weddings on the world-famous Strip. An acre of cobblestone-accented grounds and vibrant backdrops are designed to capture every picture-perfect moment of a Las Vegas wedding.
Professional wedding planners, part of a team of over 100 on-site staff members, ensure that every aspect of the wedding day is personal, easy and stress-free. Chapel of the Flowers' impeccable customer service assures the couple that all details of the wedding, including the ceremony, flowers, award-winning photography and reception venues will result in cherished memories for a lifetime. Chapel of the Flowers is honored to be one of the preferred venues in Las Vegas, the wedding capital of the world.
["source=yahoo"]